101 appliglue uses - mend it
mend it!
for those last minute repair jobs!
use clear appliglue for a wide range of repair jobs - we used it to mend this much loved belt - strong enough for the job and it dries clear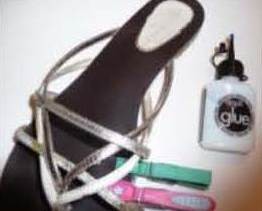 or give a new lease of life to some broken sandals
kids trousers need a knee patch? simply use appliglue to repair them instead of getting out the sewing machine!
we used appliglue to mend Christmas toys - prolonging the hours of fun!