blog - sally dray 2015
Sally Dray popped around one day to discuss the technique of using craquleure on canvas for a film production.
In conversation she mentioned that she had her first attempt at craquelure in the car and disappeared off to fetch it.
Below is the painting which is utterly beautiful in detail and luminosity. She copied a photograph of Anne Boleyn which is painted in oils on MDF.
Over the top she created the fine lines of craquelure. The finish is superb. Sally is a modest, huge talent.
Read all about her in the Press Release below.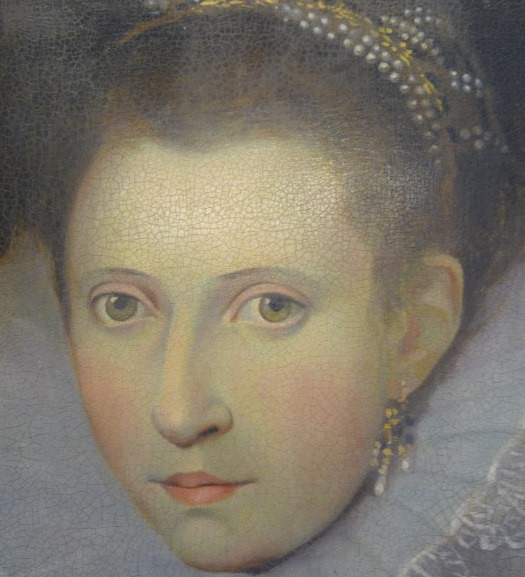 and here are some of her other paintings
Sally studied Fine Art at Kingston School of Art followed by a Teaching Course at Brighton College of Art.

Her work now involves carrying out drawings and paintings to commission for designers of museums, films, televisions, interiors and private clients.
Museums: Sally has produced glass paintings, illustrations, and appliqué work for many museums both here and abroad including the Natural History Museum [London], Chatham Historic Dockyard, Lichfield Heritage Centre, the Diaspora Museum [Tel Aviv] and the Museum of Natural Sciences in Taiwan.
Film productions: Much of this work has involved painting portraits of well-known actors. Film productions include: Evita, Titanic, Wilde, Quills, The Golden Age, Dorian Gray, The Green Zone, St. Trinian's, Cemetry Junction, Hugo, Gambit, The World's End, Dark Shadows and all the Harry Potter films. Many of the Harry Potter portraits are now on permanent display at the Harry Potter Museum.

Television productions: Poirot, Oliver Twist, David Copperfield, Gentlemen's Relish, New Tricks, Hound of the Baskervilles, Trapped, The Virgin Queen and Page Eight
Private Collections: She has work in many private collections including commissioned paintings for the film directors Alan Parker and Chris Columbus, and a family portrait for the actress Helena Bonham Carter and director Tim Burton
Contact details: email: sallydray@hotmail.co.uk; telephone: