projects - christmas stocking
christmas appliqué stocking with lettering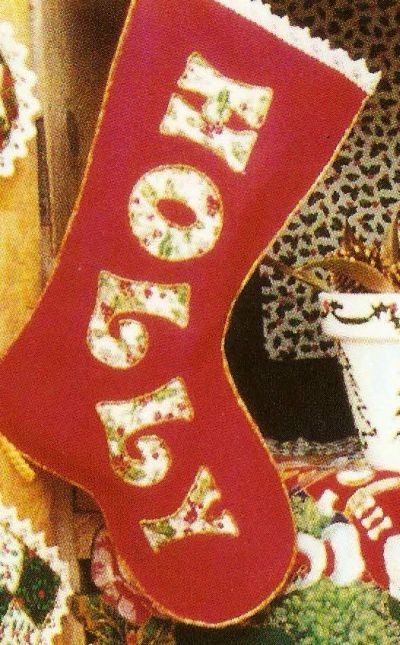 (finished size approx 42 cm)
you will need
a piece of plain medium weight fabric ie red or green 55 x 30cm
a piece of Christmas patchwork fabric approx 22 x 14cm (the amount required will depend on the number of letters or designs to be appliqued onto the stocking)
36cm of lace or braid 1.5cm wide to trim the top of the stocking
20cm of 50mm wiide ribbon
appliglue no. 6 - clear
appliglue no. 32 - soft gold
small container of water
cotton wool buds
sharp scissors
a piece of stiff card approx 60 x 60cm
florist wire
2 clothes pegs or masking tape
preparation
1. Wash and iron all the fabrics
2. Cut out the paper patterns
3. Cut out two stocking shapes (A & B). One stocking shape should be 1cm larger all round. This will be the backside of the stocking
4. Cut out the letters or Christmas shapes to be appliqued onto the stocking
5. Put the smaller stocking shape (A) onto the card and secure with pegs or masking tape
6. Position the letters or Christmas designs onto stocking A
7. Before starting to glue, carefully read the appliglue instructions.
8. Turn a letter over and scratch a thin line of the clear glue just inside the underneath edge and postion back on to stocking A. Repeat for the other letters
9. When all your pieces are in position, starting from the top, use the Soft Gold appliglue around all the raw edges of the letters.
10. Leave the stocking to dry (about 4-6 hours)
11. When the design is dry, centre the stocking shape A onto the larger stocking B and scratch a thin line of the clear glue just inside the underneath edge of the stocking shape A, except the stocking top which is kept open, and position back on to stocking shape B
12. Use the Soft Gold around all the raw edge of the stocking shape A except the top
13. When the glue is dry (approx 4-6 hours) cut around the Soft Gold edge to cut off surplus fabric from the larger stocking shape. Trim the stocking tops so that the back and front are level
14. To apply the lace or braid around the edge of the stocking top put a piece of card just inside tthe top between the two pieces and run a little clear glue along the outside edge of the stocking tops and stick the straight edge of the lace or braid onto the glue. Work on the front first and then turn over and repeat on the back
15. Finally use the clear glue to stick the ribbon for haning the stocking just inside the corner edge of the top
download alphabet letters template