projects - craquelure frame
craquelure frame by Jenna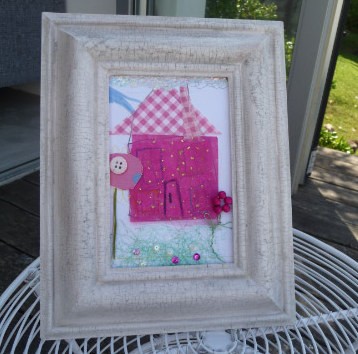 With the protective cloth on the table, the frame, paint brushes and paint at the ready and an apron on, 5 year old Jenna is about to embark on decorating a frame for Mummy. We were keen to see whether at her age she would achieve a result with our product. She, on the other hand, was just very keen to make a special pressie for Mummy.


1. First we put masking tape on the acrylic to protect it from being covered in paint.

2. Then using white kid's acrylic paint the serious task of painting began.

3. Once dry, Step 1 Medium Crack was painted on.

4. The following day, the thicker Step 2 was painted over Step 1

5. Then came the wait of a couple of hours to see whether the crack would appear!
6. This experiment set about to see whether a combination of casual painting with kid's acrylic paint and then loads of love, attention and over painting would achieve the craquelure effect, and what would happen to the quality and size of the crack.
7. The cracks appeared to huge delight – a little bit of magic.
8. The next bit needed adult supervision. A dollop of white artist's oil colour with a smidgen of black gave me grey which was rubbed into the cracks with a tiny bit of white spirits.
9. After about 20 minutes, Jenna gently wiped off the residue with a big soft cloth.
10. Totally delighted we finished it off by putting the card that we had made for Mother's Day into the frame.