projects - decoupage eggs
decoupage eggs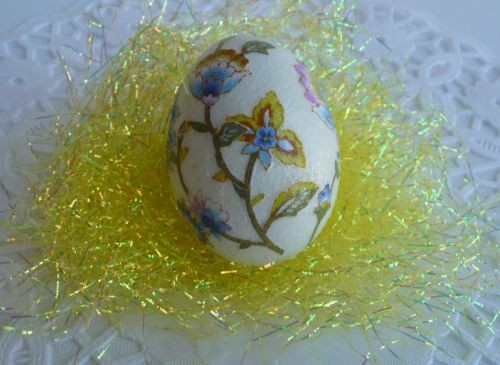 We created this beautiful egg using a photocopy of a

gorgeous flower printed paper and our decoupage finish in no time at all!
see how we did it below
| | | |
| --- | --- | --- |
| | | |
| If you are going to eat the eggs it's better to blow the eggs first. Good sites exist on the internet. To create a base we found the best way was to sponge on an emusion or thick craft paint Use any colour you have around. Then see what you have available in the house and start cutting. | We carefully cut around the flowers with a little pair of sharp scissors. I found mine at a well known upmarket pound shop who have a lovely choice. Make sure the cut outs are small enough to fit on the egg. If not, trim it. A little bit of pruning is perfectly acceptable to create your own design. Leaves can be added and subtracted on a whim! | Here we used matt decoupage finish, but when it came to photographing it we added a coat of gloss for the final coat to give it a sheen. Sometimes it's easier to paste the back of the piece and others to put a splash on the egg. This depends on the size and shape of the piece. |
Here you can see how the design on the egg varies as the flowers wrap themselves around it. With each turn of the egg there is something different to look at. It was a wonderfully creative experience and so simple because if you place a piece in position and don't like it or it's the wrong size, there is time to remove it and try it somewhere else or trim it.