projects - doll's house patio
a DIY patio for the doll's house
Summertime. The perfect time to spend in the garden, so why not a make over in the garden for the dolls house too.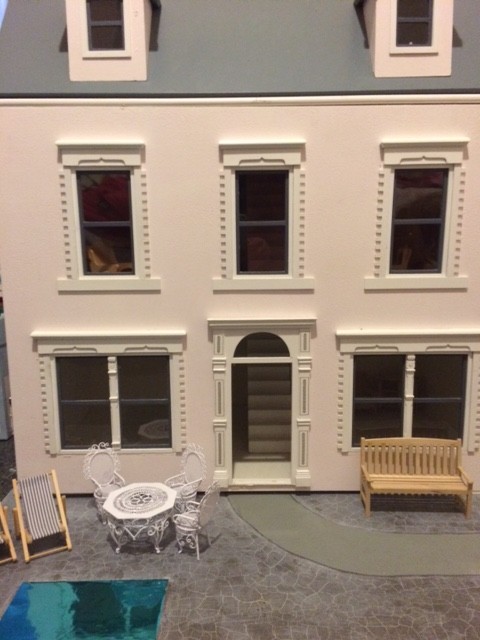 Not much is needed to create this patio: a piece of MDF, some left over dark grey emulsion, a junior set of artist's oil colours along with 100mls of Craquelure Step 1 and 2.
The medium crack was used to create this delightful patio area for our doll's house.
As you can see, here we had the "benefit" of eager littler hands, sometimes a bit slow, towards the end a little too speedy and in between long spells of conversation.
The final outcome has not been affected in any way though, and we have been told that the family love sitting out there, although at the moment I believe they have gone on an outing to the funfair.

| | | |
| --- | --- | --- |
| | | |
| First the MDF board was painted on the smooth side with a dark grey emulsion. We did draw lines in case you're wondering where they are | Then a second coat was added and the pathway painted in light grey. We added white into a little bit of the dark grey to achieve the light grey! | Craquelure Step 1 Medium Crack was applied to the dark grey patio area. The brown rectangle on the left was left unpainted as it is going to be a swimming pool! |
| | |
| --- | --- |
| | |
| When Step 1 was dry, Craquelure Step 2 was applied. Fine hairline cracks appeared. White artists oil paint was rubbed liberally over the surface. A coloured furniture wax could be used too | After about half and hour, the artists oil is rubbed off to reveal the grey patio with white cracks. It is adviseable to do a test piece first because each person wants to create a different effect and wipinng it off at different times can do exactly that |
| | | |
| --- | --- | --- |
| | | |
| The patio is complete, now was the time to add some extras. | We needed a pool and experimented with our foils to find the right one. | With our in house little expert's advice we settled on turquoise. Finally the patio furniture was added to complete the look! |