projects - transferglaze bowl
transferglaze bowl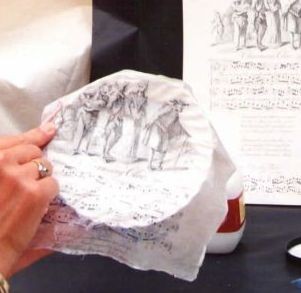 Applicraft Transferglaze is an acrylic glaze which binds printed inks into a waterproof plastic film.
Transferglaze can be used to make a transer from almost any printed source. Photographs and hightly glossed prints should be colour photocopied.
Transferred prints may be used on cast resins, eggs, wood, metal, glass, plastic, wax, ceramics, fabric, card and canvas.

you will need
bowl or item to be decorated

picture to be transferred

sponge applicator or paint brush

Applicraft Transferglaze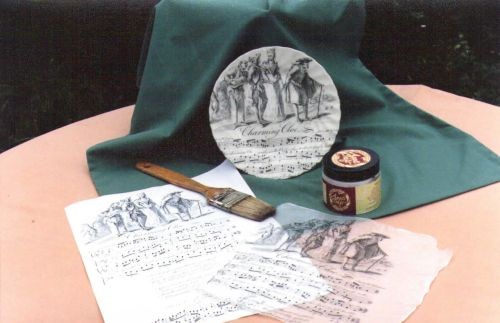 step by step
1. Paint four layers of Transferglaze on to the face of the print, applying two horizontally and two vertically. Allow the glaze to dry in between coats - each coat taking about 20 minutes. Use a hairdryer to speed up the process. Leave the print to cure for two hours.
2. Place the print into warm water (print face down) for 20 minutes.
3. Remove the print from water and place print face down on a hard smooth surface. Using the balls of your fingers gently rub the back of the transfer unti the paper has been removed.
4. Paint a coat of Transferglaze on to the surface and position the transfer on top. Using a rubber roller or finger tips, press firmly from the centre to the sides to remove air bubbles. Seal the surface with a coat or two of the Transferglaze. Wash utensils in warm soapy water.