today's project
FUNKY FLIPFLOPS!
It's the end of the term and I walk into the room to find a very busy 11 year old with head and hands tucked into the craft boxes.
In fact, there is pure chaos on the table with card, papers, textiles, threads, foils and appliglues scattered about.
"Granny, tomorrow we can wear decorated flip flops to school and I forgot about it until now"
Do you all recognise that phraseology? It doesn't change through the years!

Did I mention the time?: 5.30pm. Dinner, bath, and bedtime sooner than later without exception in this household. There are rules!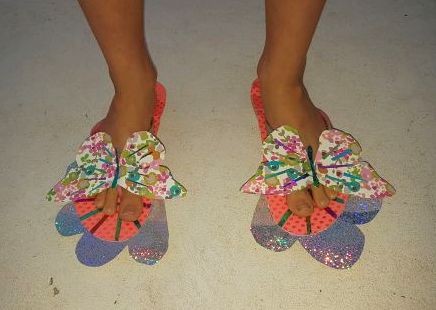 Above the completed flip flops. A butterfly perched on a shiny shrub!!!!!!!!!!!
----------and this is how we did it
Out came the well used flipflops which were perfect for an update.

Some serious work was needed!

The slightly shiny, dotty craft card was chosen for the sole. We placed the flipflop on the wrong side of the card and drew around it ensuring we had a left and right sole
We had to cut the card at each point where the thongs joined the sole. On the finished flipflops you will see we covered those with strips of foil.

| | | | |
| --- | --- | --- | --- |
| | | | |
| | We found a butterfly template which we photocopied a couple of times. With a small pair of nail scissors the butterfly was cut out. | The perfect left over gift wrap was found for the butterfly. | A template was hand drawn for the shrub.This was cut out of another piece of shiny card. |
Finally a few finishing touches were added to create detail on the butterfly.

With clear appligue and a variety of different coloured foils I created a bit of magic. This, I'm afraid to say, I did after bedtime. Up to then my helper had been very busy indeed.

The delight on her face when she woke made it all worthwhile.