projects - doris deer
doris deer -
made with clear & coloured appliglue!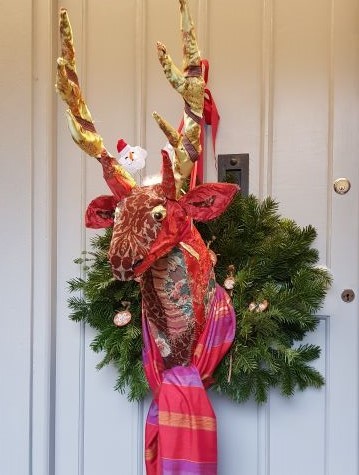 We have been having fun again this year with Doris
- a Christmas outing in the car and then back on the door to greet Christmas visitors!
how we did it!
I knew that I wanted a wire frame created but wasn't quite sure how I would achieve it. In Kalk Bay, a little harbour town of Cape Town I approached one of the street wire vendors in Vennie's team. We discussed the size and a couple of details. I returned a couple of hours later when I was shown the "bones" of the design. I agreed it. Paid half of the quote of R200's (just over £10) and the following day collected it. It is about 100cms x 45cm in size.

Much as I loved the wire frame the aim was to create a Chrstmas deer for the door and I wanted to see if I could cover it with fabrics using Appliglue. To do that I needed a textile base so draped it with leftover fabric, which was cut, pinned and then the seamed fairly randomly with big stitches.

Kalk Bay is a quirky, arty fishing village along the coast, on the drive to Boulder's Beach and Simonstown. It is here, between the popular Olympia bakery and coffee shop and a relaxed fish food cafe right on the street where one can find a good plateful of seafood for about R135 (about £9.00), that Vennie sets out his stall.
The temptation to have a little fun with this deer was too great, so on the left he is hiding amongst the rhodedendron bushes. Textiles here are pinned in place. On the right, now ready to welcome Christmas visitors, is our deer in the new outfit. Once the pieces were glued in place, some of them were edged with colour. Others received more detailed decorative "stitches". In the centre on a scrap of fabric are some of these designs I was experimenting with. Did you know that in the old days one of the reasons for the development of crazy patchwork was that fabrics used were often thick and difficult to stitch with running stitches, so women developed creative ways to deal with this problem!