projects - national trust house wall hanging

National Trust House Wall Hanging


Below is a wallhanging made some 20 plus years ago. It was an experimental piece based on an old black and white picture of a National Trust building. We wanted to create our own version of a tapestry using piecing techniques and embellishment. The difference, Appliglue was to be our thread of choice.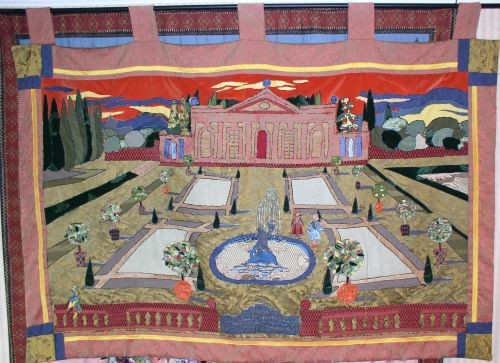 This was a combined effort with friends who popped in to dabble or simply to drink the tea.
We called in friend Hillie Reid, an artist of note, towards the end because we knew she wouldn't be able to resist the urge to add colour. After a very short obsevation she tutted and set to enhancing it with painterly effect! She added shadows, put leaves on the trees, perspective in the sky through clouds of colour and more greenery of various heights. The colourful bird was included on the wall and the gates were given depth. Because it was done such a long time ago, we haven't yet come across the photos that tell the story yet - but we will!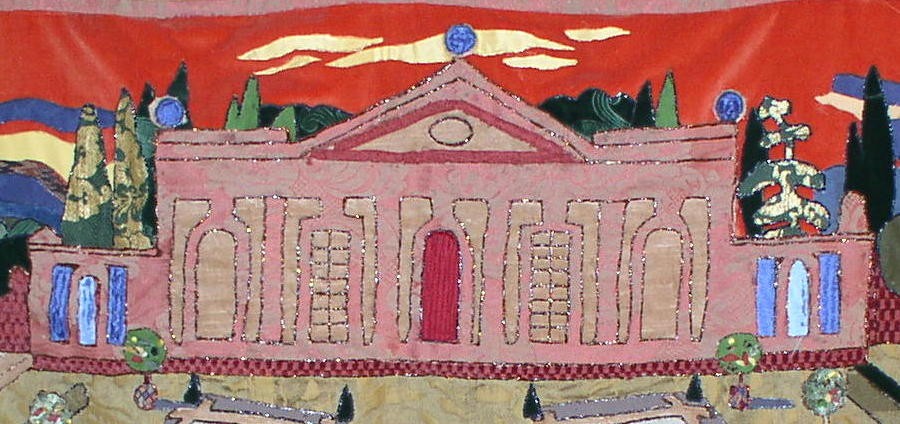 Detail of the National Trust building and the sky scene. Hillie also added colour to the outer windows.
Note the shadows, detail of different coloured fabric leaves on the trees and the colours in the clouds.
Oh, to have such a good eye! What a difference.

Most of these fabrics were scraps from an upholsterer and curtain maker.
MORE ABOUT THE ARTIST: Hildegarde Reid
Painter of Oils,Watercolour, Gouache & Acrylics
Art Tutor & Art Demonstrations
Teacher of Watercolour Painting On Cruise Liners
Commissions Invited
Tel: 0208 398 1943 / 07584 571 234

Hildegarde is primarily a "Colourist". Her work is much influenced by her roots and she brings warmth and vibrancy into her paintings where with gay abandon uses colour and paint in a way that has been described as, "delightfully sensual".

click here to see colourist Hildegard Reid's
click here to see other wall hangings & quilts

Save
Save
Save