projects - heart cushion
appliglue heart cushion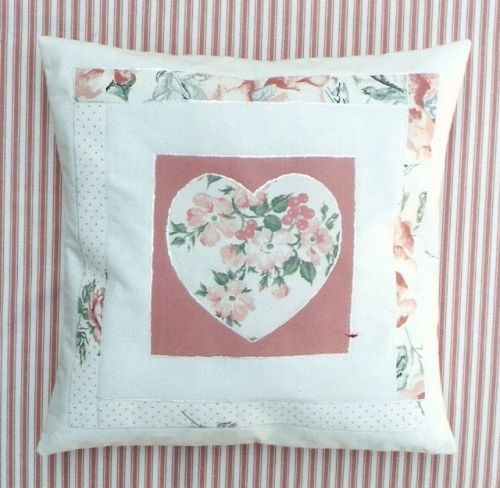 you will need
1. a piece of calico approx 43 x 106cm
2. 4 pieces of cotton fabric squares as follows; 1 dark square; 1 light heart; 2 light strips 30 x 3cm; 2 dark strips 30 x 3cm
3. appliglues no. 6 (clear) and no. 23 (oyster).
4. piece of firm cardboard approx 60 x 40cm
preparation
1. Cut the calico into 3 pieces; A 43 x 43cm, B 43 x 33 cm, C 43 x 30cm
2. Cut out template A and transfer it on to card/template plastic
3. Cut out template B and transfer it as above
4. Transfer them onto the card/template plastic
5. On the wrong side of the fabric draw around the template accurately with a sharp pencil
6. Cut out. No seam allowances necessary
7. Measure and cut out the strips 30 x 3cm
assembly
1. Fold calico piece A in half and half again to locate central point.
2. Fold fabric piece A in half and half again as for calico (fig a)

3. Following (fig b) place the fabric square in the centre of the calico
4. Measure and cut out the strips - 30 x 3cm
5. Place in position 4.5cm from the edge of template A (fig c)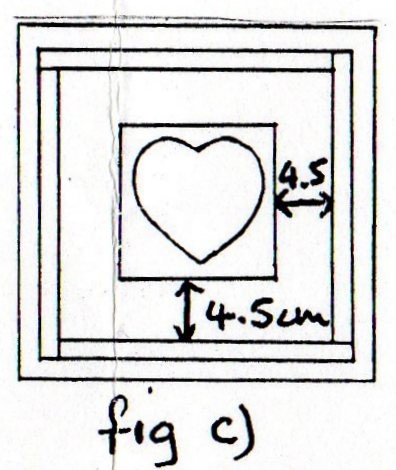 6. Withold fabric piece B (heart)
7. Ensure there are no creases. Iron if necessary
8. The pieces should meet with no overlap
9. Place calico piece A on cardboard and peg at the top to secure
method
1. Working from left to right, remove a pattern piece and turn it over.
2. Using appliglue no. 6 (clear), scratch a thin line around the under edge. Place it back into position. (fig d)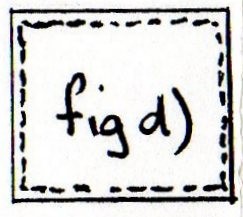 3. Repeat on each piece until the design is completed.
4. Place the heart at the centre of the square and glue as above.
5. Study (fig e) and proceed to glue, using no. 23 oyster as follows; using the nozzle in the downwaqrd movement, half on the motif and half on the base fabric like straight machine stitching, work in straight lines from the top of the design downwards.
6. Repeat until every raw edge has been covered.
7. Rotate the board when necessary to avoid smudging the glue.
finishing off your cushion
Calico piece A - patchwork heart completed
Calico piece B -
turn under half a centimetre on a 43cm edge
fold over this edge again
pin, baste and stitch down this hem
Calico piece C - as for calico piece B
assembly
1. Place B on C with hems overlapping to form a square, 43 x 43cm (fig f)
2. Base
3. Place calico piece A on top on pieces B and C with right side facing and raw edges matching
4. Pin, baste and stitch together all around with a 1cm seam
5. Press
6. Cut diagonally across the corners to reduce bulk.
7. You may wish to work a little extra stitching at these points for reinforcements (fig g)

8. Turn to the right side through the opening
9. Insert cushion