blog - butterfly tshirt
butterfly tshirt
our gardening scene tshirt is still going strong - see the picture below -
but we thought it was time for a new one and we love this butterfly design!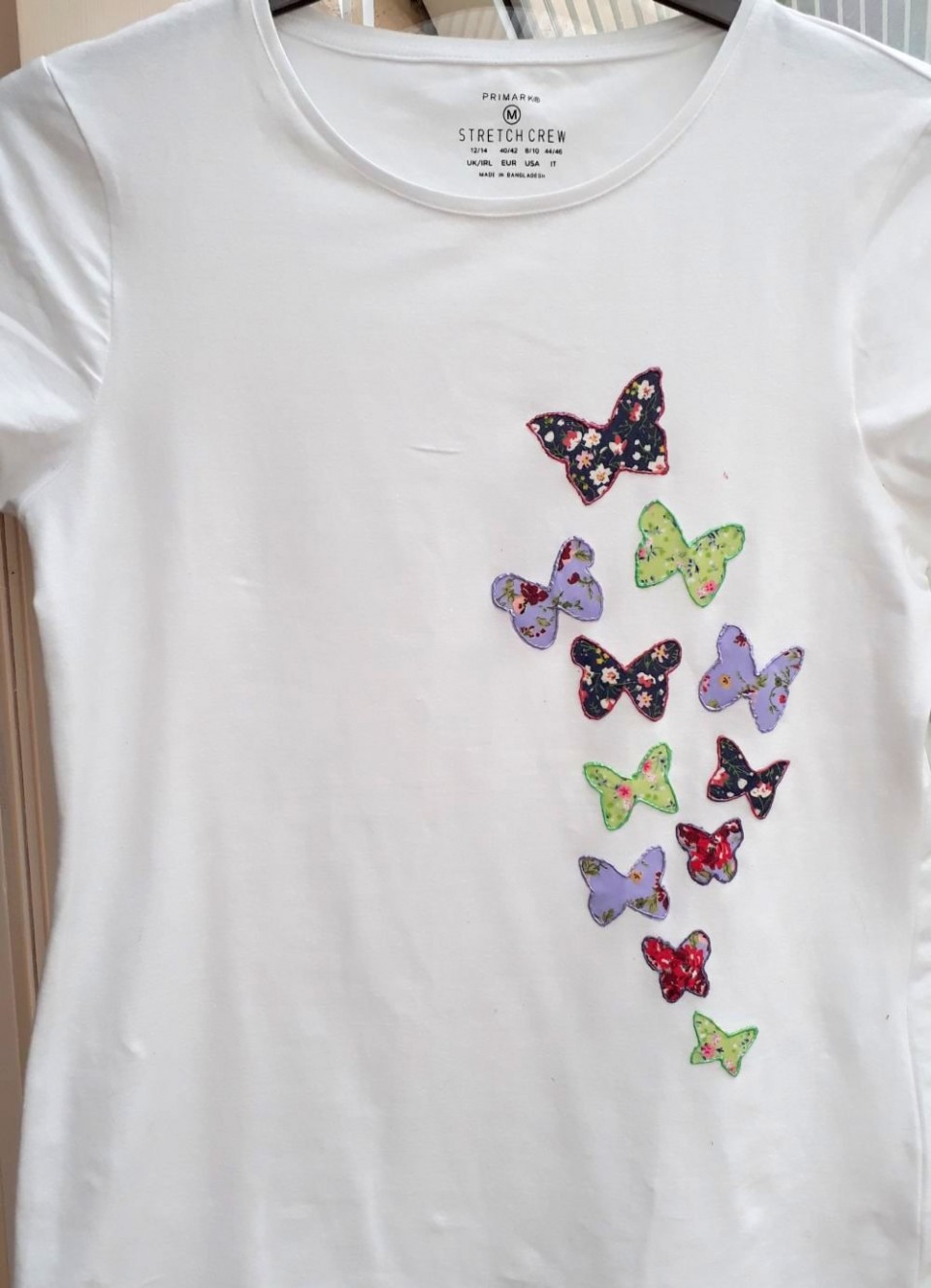 so easy to create your own unique shirt -
just some old scraps of fabric, a few coloured Appliglues and templates in various sizes was all we needed!
| | | |
| --- | --- | --- |
| | | |
| Firstly we selected a few fabrics - we chose small floral designs as this seemed to work well with the butterfly shapes. We downloaded templates from the internet and adapted them to get 3 different sizes | We then set to work cutting and then laying out our design. Once we were happy with the layout the butterflies were glued into place using clear Appliglue | Don't forget to insert some plastic behind the shirt to prevent the glue from seeping through. We then sealed the edges. |
| | |
| --- | --- |
| | |
| | We used coloured Appliglue - fucshia, sweet green and lilac - to seal the edges and prevent fraying |

-------------------------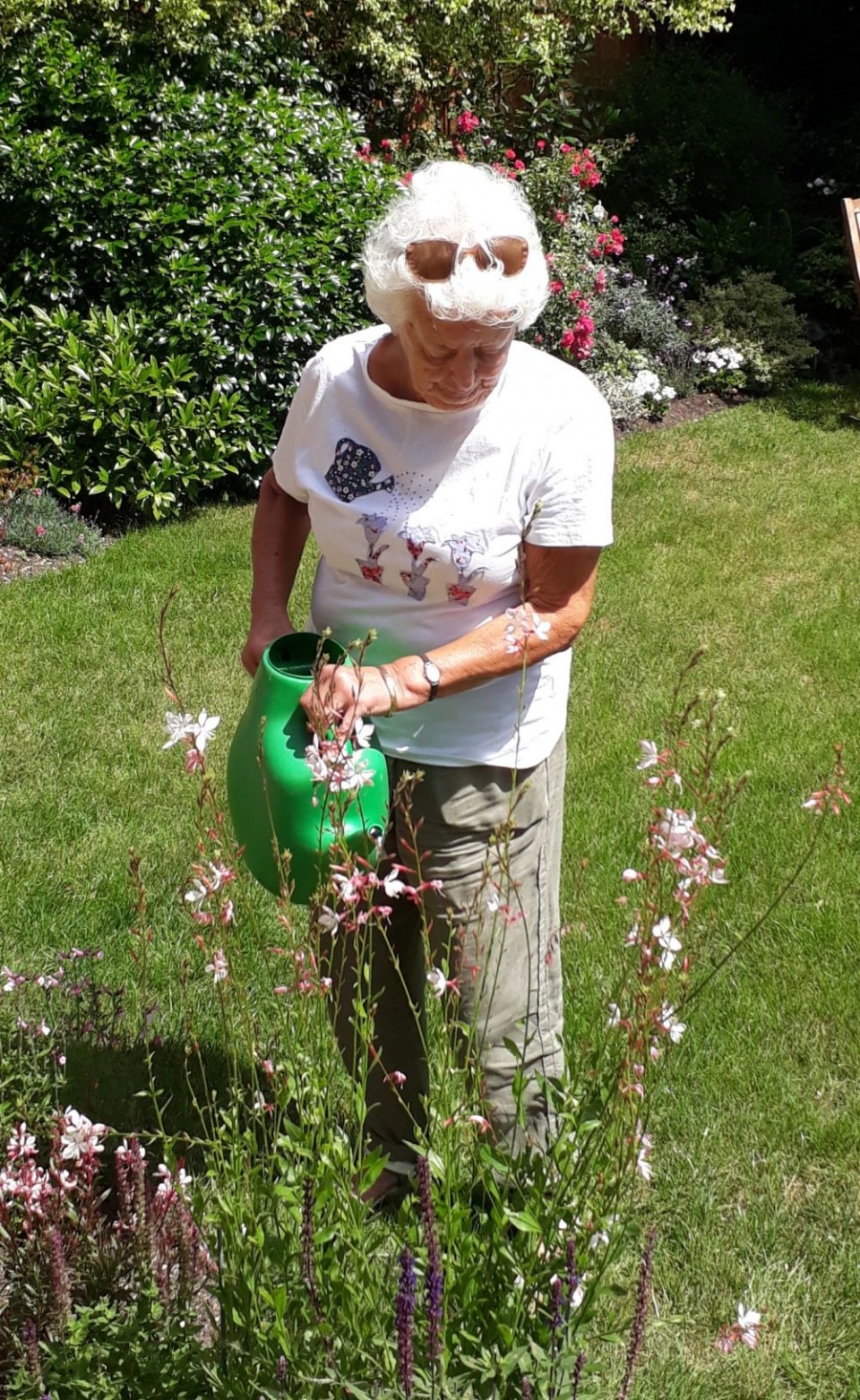 after much wear and many washes this tshirt is still looking great
see the original project below ........
gardening scene appliqué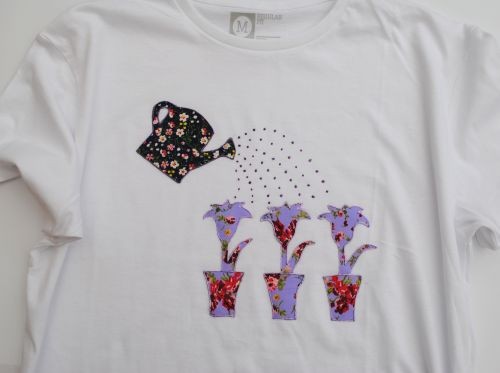 you will need
1. A template of a watering can and tulips (see below)
2. Fabric for the appliqué
3. Appliglues: no. 6 and colours to match your fabrics
4. A cotton based t shirt
5. A piece of cardboard covered with plastic
method
1. Cut out the tulips and watering can patterns and pin the shapes onto your chosen fabric
2. Slip a plastic covered piece of cardboard inside the t shirt
3. Secure the t shirt to the cardboard with pegs
4. Position the tulips and watering can in place.
5. Starting from the top, remove the watering can and scratch a thin line of the clear glue along the inside edge on the wrong side .
6. Replace into position.
7. Appliglue the remaining tulips in place
8. Starting from the top of the design, apply the coloured appliglue finely around all the edges of each piece. If right handed, work from the left of the picture to the right.
9. Leave your project to dry for at least 4-6 hours.
hints and tips
When washing, turn the t shirt inside out and wash on a short gentle wash. If necessary Iron on the reverse side.
After placing the motifs on the t shirt, you might like to secure them with a paper glue stick. Then try the garment on and adjust the motifs as necessary. Proceed with the double glue technique. The paper glue will come out with your first wash.
A child's colouring in book is a useful source for patterns.
This is a perfect opportunity to use scrap fabrics. Cotton is always a good first choice.
Shapes can also be appliqued on to cushions, bags, greetings cards etc.
Why not appliqué a square of crazy patchwork on the front of a sweatshirt
previous posts;
floral frame
rafia hat decoupage
upcycled wedges
new year repairs
rustic xmas tree
posh pumpkins
pencil case upcycled
xmas elephant card
foiled xmas twig tree
autumnal weaves
halloween 2018
funky flipflops!
ocean billet doux
jo mabbutt
designs on eggs
chinese new year 2018
doris - the tail end!
lucie dodd
dominic mckeown
tracy lowry
niamh weaves
sarah noble
amy edwards
art & the seaside
summer celebrations
celebration letters
spring cleaning!
susan adams 2017
valentine cards
chinese new year
mend it!
transferglaze dolls plates
halloween 2016
molly meadway
toys tea party
bridget davies art
emily rose middleton
alice godwin
francesca gibbs
sofia rufin
nicole ferry
marmaduke london
ewa's spring flower inspiration
bird house
susan adams
sarah appleton
four corners cafe
festive foiling
hilary beattie 2015
halloween 2015
England colours
pirate pedalo
doll's house patio
sarah van reenen
ali reed
jannine knight
clementina's fishshop
flutter designs
bridget davies
mothers day 2015
foiled boots
doris at Christmas!
kim thittichai
ewa morawski
nova & lorsten
autumn 2014
jennifer gould
quilting
hilary beattie
mary yanke
typography
father's day 2014
doll's wardrobe
name it, mark it
all sorts of eggs!
transferglaze egg
appliglue t shirt
doll's house furniture
appliglue glasses case
craquelure heart
valentine's day 2014
christmas 2013
halloween 2013
summer in the garden 2013
getting ready for summer 2013
spring 2013
easter 2013
mother's day 2013
valentine's day 2013
&a