blog - bridget davies
artist bridget davies
Summer and Autumn Art Fairs 2022

I hope all is well!

Below are the art fair dates for this summer and going into autumn/winter. Hopefully these will be going ahead but are still subject to change.
Apart from the Hong Kong Affordable Art fair, which was moved from June to August, it has been a very busy year I am very happy to say. Most art fairs have been good and I have been working very hard to produce lots of lovely artwork to be shown and almost all of these are now happily hanging on walls in their new homes all over the globe. It is so nice to finally feel some sense of normality return after the last few year of this awful pandemic.
Below are the latest dates for further fairs this year and please do not hesitate to contact me or the galleries in question if you would like any further information.
Summer Exhibition @ West Horsley Place
22 - 26 June 2022
Contact:
Quantum Contemporary Art
Seattle Art Fair
21 - 24 July 2022
Representing agent:
Quantum Contemporary Art
Affordable Art Fair - Hong Kong
4 - 7 August 2022
Representing agent:
Quantum Contemporary Art
Art Market Hamptons
11 - 14 August 2022
Representing agent:
Quantum Contemporary Art
Affordable Art Fair - S
ingapore
18 - 20 November 2022
Representing agent:
Quantum Contemporary Art
I have also finally found time this year to add some new limited edition prints to my collection. Some are of my paintings as they are, and others are very new digitally collaged prints using specifically painted busts and flowers painted by my own fair hand, and pieced together digitaly to create a lovely new collection of my 'Wall Flower' ladies. These are usually available in three sizes and, as they are sent direct from the printers (including a certificate of authenticity and a thank-you letter), if you would like a limited edition postcard pack to go with your print please do not forget to send me a message or email with your choice of postcard pack and your delivery address :)

One more thing before I go. I also have created my first computer wallpaper which is now free to download off my website. This has been taken from two of my new 'Wall Flower' prints and has a subdued putty pink background so not to blind you (white was just too harsh!).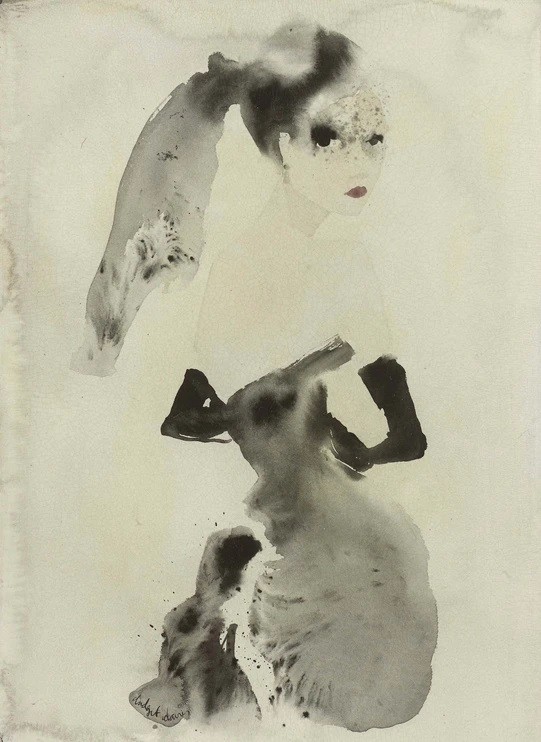 -------------
We love these latest Rio inspired paintings from Bridget
| | |
| --- | --- |
| | |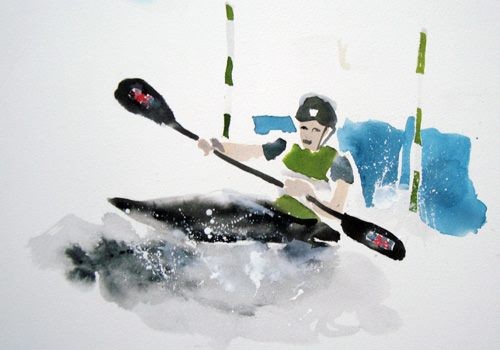 Bridget Davies, is inspired by, and loves to paint the elegant women of the 40's and 50's in beautiful clothes and glamorous settings. She is also influenced by the fashion drawings of illustrators of this period, as well as contemporary fashion artists and illustrators such as Rene Gruau and Andre-Edouard Marty to name but a few, Their playful, flirty and romantic story telling is her inspiration.
She also challenges simple art techniques, and is happy to explore other mediums. Her investigations and understanding of the products she works with is extremely thorough. Currently she's playing with the idea that a piece of work can, at first, look like a successful abstract and then slowly it becomes clear that it is a fashion painting.
After studying Fashion and Textiles at Brettton Hall there was a spell of teaching fashion and fashion illustration in Milan and then working in the fashion industry for several years as an embroiderer and fashion designer. Now back in England she's gone back to her first love, painting figures and illustrating fashion.
Bridget is a successful freelance artist working from her studio in West Sussex. She is a published artist, with greetings cards and framed prints of her work being sold both through online outlets and through stores and shops such as John Lewis and The Shard where examples of my work can currently be seen. In addition her
Heavy Metal paintings have also been used by the well-known store Anthropologie on a range of desert plates and serving platters, both in Europe and the United States.
The Leopard trimmed hat


An Acrylic Ink finished with craquelure and gloss varnish, part of the How Ladylike mixed media original artwork range of paintings

Lady with a feathered hat.

An Acrylic Ink aged with craquelure and finished with a gloss varnish

Waiting again.

An Acrylic Ink aged with craquelure and finished with a gloss varnish, part of the How Ladylike range of paintings
Nude

Nude in music book finished with craquelure

Big Night Sketch Book

A concertina book of sketches and ideas for the Big Night Out paintings

Come on Rover

One of the quirky series of Walking the Dog. Water colour ink on Water colour paper.
It's difficult to keep up with Bridget's incredible energy. Visit her on bridgetdaviesart.com to see where she's exhibiting and to view her work.
click here to see collaborations with John Lewis, Anthropologie and the Shard

previous posts;