blog - susan adams
Susan Adams

Below is some of the latest work by Susan Adams

This beautiful piece was shortlisted for the Bridgeman Studio Award last year - it came 2nd out of over 900 entries!

click here to find out more about the artist, her techniques, inspirations.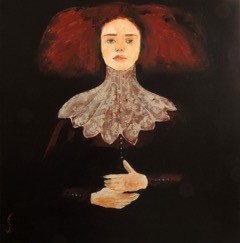 -------------------------------------------------------------------
New Zealand born, Australian artist Susan Adams, began painting watercolours whilst living in Dublin where she fell under the spell of the beautiful paintings of Pauline Bewick, one of Ireland's leading artists. The 'Flower' series in particular reflect this in their deep rich watercolours and simplicity of form. In 2002, she joined her husband in Catania, Sicily, and it was there that she discovered the studio of British artist, Tracey Bridge. Surrounded by the beautiful architecture of the ancient city, her work flourished and expanded to acrylic, collage and pastels, exhibiting this work successfully in Catania, London and later in France.
Sue also admires the simplicity of style of the 1920s and her 'Acrylic' and 'Little Man' series were painted with this in mind. She has also tried to combine the haunting beauty of the soft chalk 'Pastels', the 'Fashion' watercolours and the 'Yellow Nude's with hints of exotic Asian art. The works of Modigliani for many years and more recently the beautiful stylized forms of Georges Lepape and Chagall's beautiful compositions with their almost ethereal elegance were influential.
For the Christmas season Sue chose a selection of images painted by the great Renaissance painters such as Raphael, Bellini and the lesser known Santacroce. The interaction of mother and child portrayed by these artists was her inspiration.
Some of Sue Adam's works have been carefully chosen and reproduced as high quality and beautifully presented greeting cards and prints recently.
Below is a small selection of her work. Explore her paintings, decoupage, sculptural work, cards and prints on
wattlebirddesigns.com/decoupage
and
https://www.bridgemanimages.com/en-GB/collections/artist/adams-susan-/

| | |
| --- | --- |
| | |
previous posts;
Save
Save
Save
Save
Save
Save
Save
Save
Save
Save