blog - summer tshirt!
appliglue summer tshirt
celebrate the sunshine!
finally summer is here and we are able to enjoy meeting up with family and friends again!
we created this fun design for those wonderful summer days
using odd scraps of fabric and a couple of coloured appliglues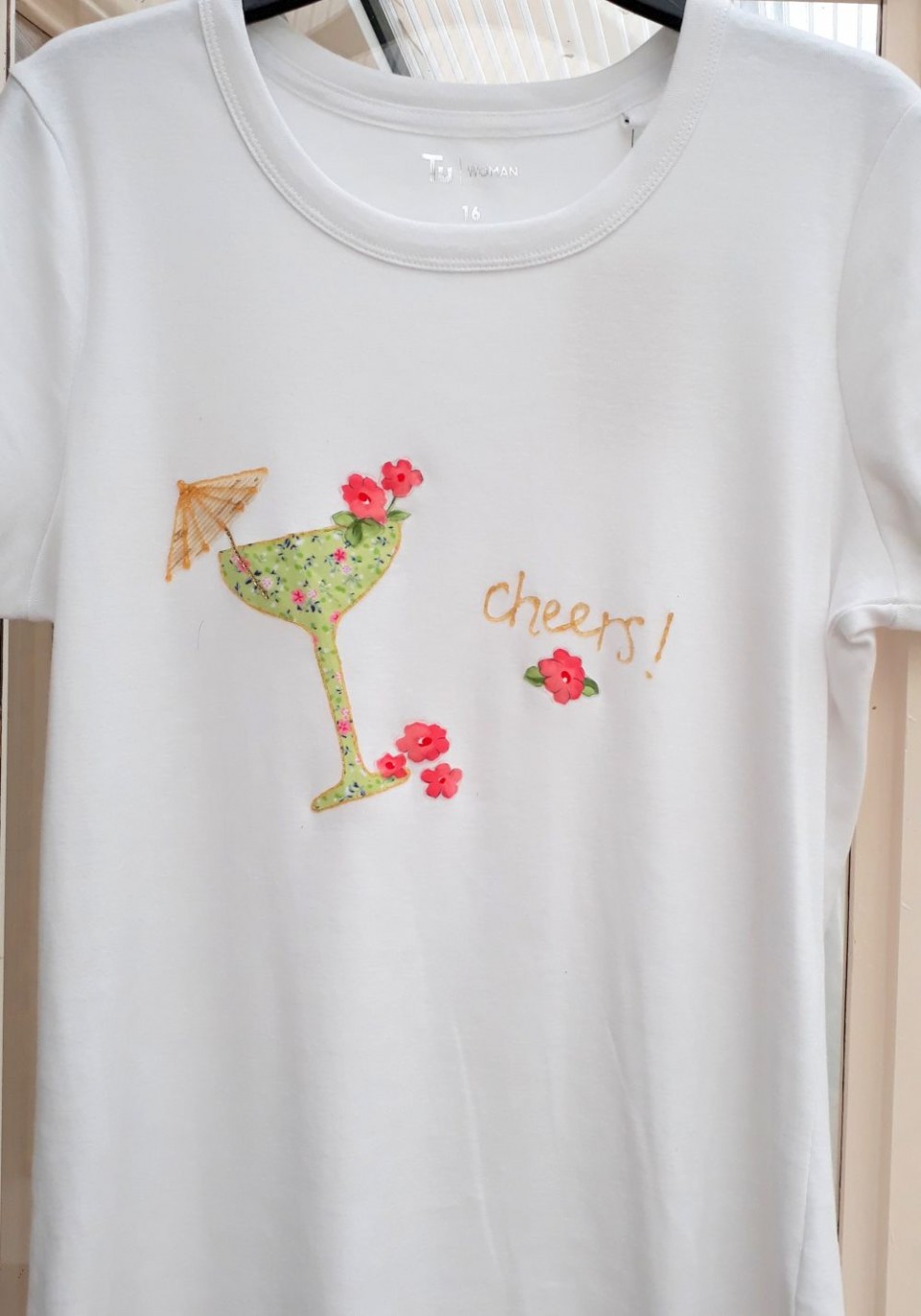 | | | |
| --- | --- | --- |
| | | |
| simply choose your template and fabrics and you're set to go | we chose this summery flower design for the glass. Simply apply with clear Appliglue - don't forget to insert plastic covered card in between the two layers to avoid sticking these together. | then just add decorations to embellish your design. We cut flowers from fabric and used soft gold appliglue to add the parassol |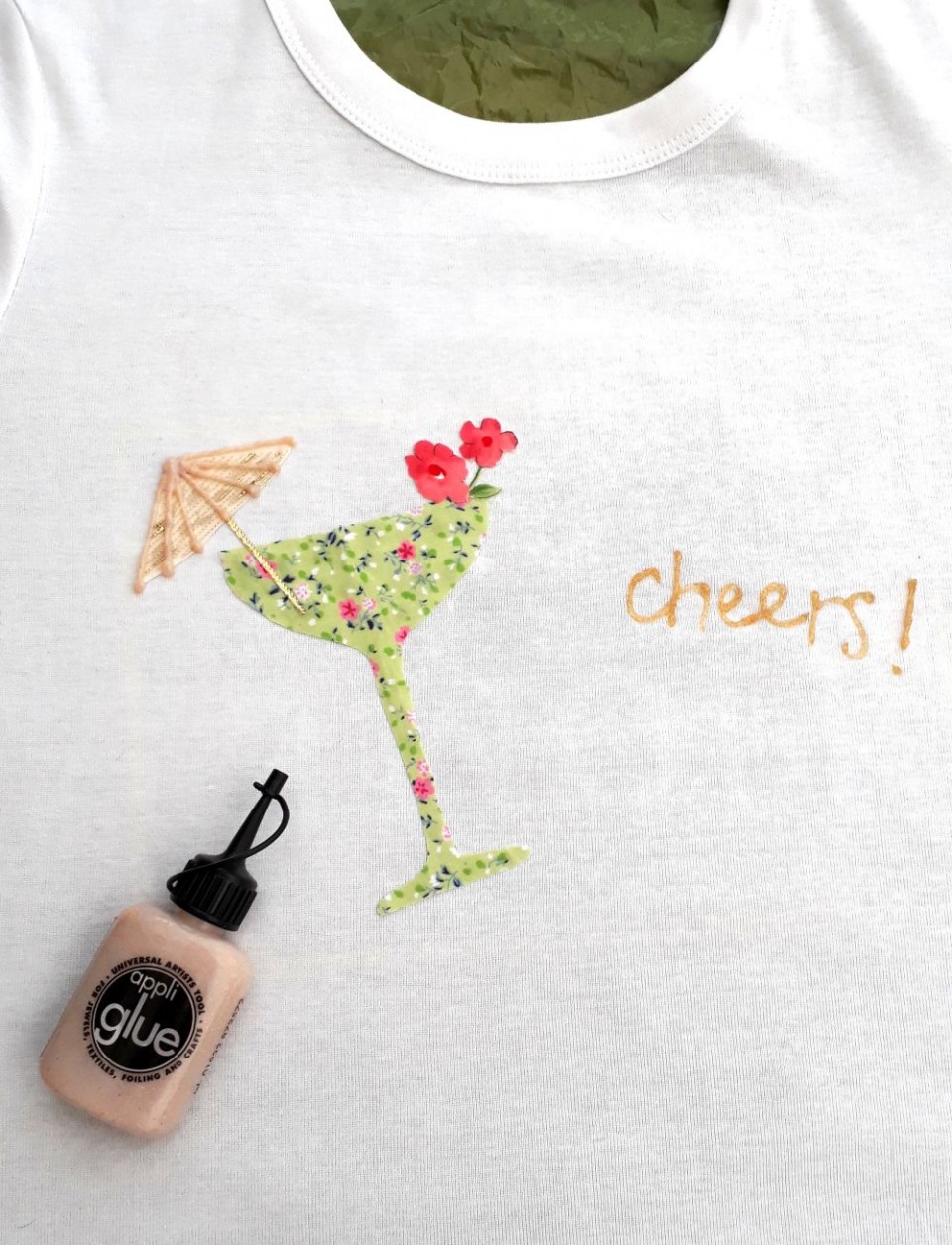 finally we used the soft gold again to add the words and to edge the shapes to avoid fraying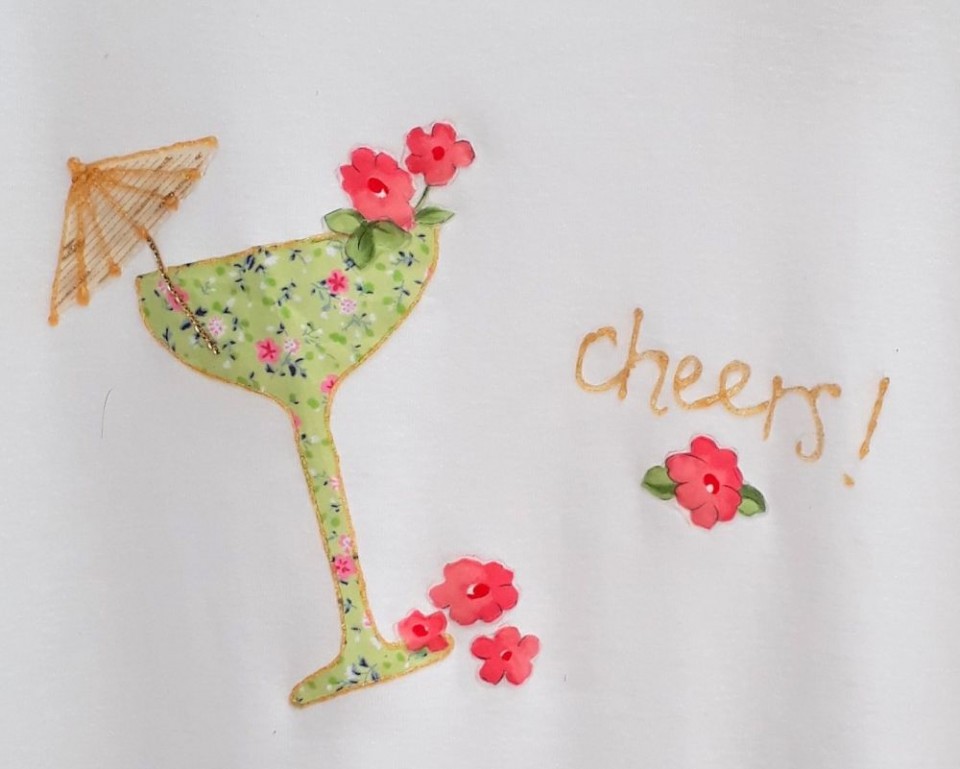 enjoy the summer sunshine!
previous posts;
horse stables with appliglue
rudolf tshirt
butterfly tshirt
floral frame
rafia hat decoupage
upcycled wedges
new year repairs
rustic xmas tree
posh pumpkins
pencil case upcycled
xmas elephant card
foiled xmas twig tree
autumnal weaves
halloween 2018
funky flipflops!
ocean billet doux
jo mabbutt
designs on eggs
chinese new year 2018
doris - the tail end!
lucie dodd
dominic mckeown
tracy lowry
niamh weaves
sarah noble
amy edwards
art & the seaside
summer celebrations
celebration letters
spring cleaning!
susan adams 2017
valentine cards
chinese new year
mend it!
transferglaze dolls plates
halloween 2016
molly meadway
toys tea party
bridget davies art
emily rose middleton
alice godwin
francesca gibbs
sofia rufin
nicole ferry
marmaduke london
ewa's spring flower inspiration
bird house
susan adams
sarah appleton
four corners cafe
festive foiling
hilary beattie 2015
halloween 2015
England colours
pirate pedalo
doll's house patio
sarah van reenen
ali reed
jannine knight
clementina's fishshop
flutter designs
bridget davies
mothers day 2015
foiled boots
doris at Christmas!
kim thittichai
ewa morawski
nova & lorsten
autumn 2014
jennifer gould
quilting
hilary beattie
mary yanke
typography
father's day 2014
doll's wardrobe
name it, mark it
all sorts of eggs!
transferglaze egg
appliglue t shirt
doll's house furniture
appliglue glasses case
craquelure heart
valentine's day 2014
christmas 2013
halloween 2013
summer in the garden 2013
getting ready for summer 2013
spring 2013
easter 2013
mother's day 2013
valentine's day 2013