blog - jubilee jamboree
Jubilee Celebrations!
With the holiday to commemorate the Queen's Jubilee we fast approaching we are all looking forward to celebrating
with friends and family.
Why not try your hand at some simple home made decorations and party wear for the occasion -
get the kids involved - they will have huge fun!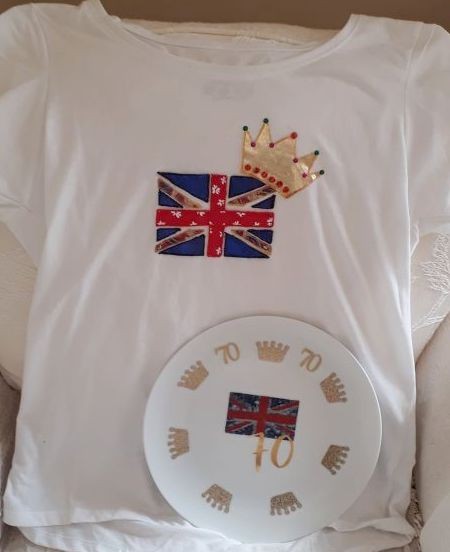 appliglue jubilee tshirt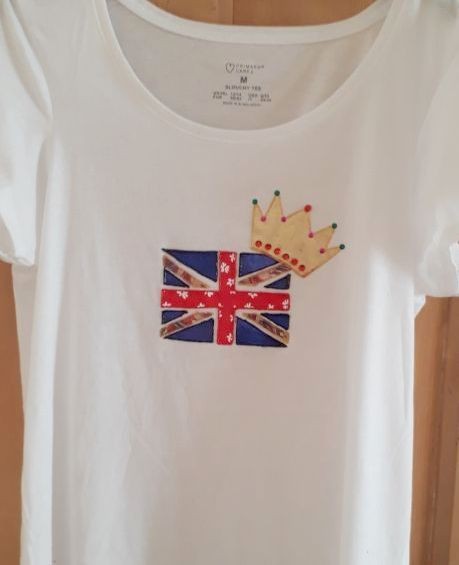 here's how we did it .......
| | | |
| --- | --- | --- |
| | | |
| We started with the idea of a union jack - but with a bit of a twist - after a bit of experimenting we chose floral and patterned fabrics | We find it works to lay out your design roughly to see how it looks - play around with different fabrics and ideas - you can amend or improve bits later | We found it very tricky to get the stripes in the right place so a little artistic licence was used but we loved the overall effect |
Use the clear appliglue to attach your fabircs onto the tshirt. We then used coloured glues to finish off and edge the fabrics to prevent fraying

We chose soft gold and lavender to compliment the fabrics

Clear glue is used to attach the crown and then to decorate with 'jewels' - sequins and beads in this case!

_________
decoupage jubilee plate
here's how we dit it.....
| | | |
| --- | --- | --- |
| | | |
| we started to think about our design and assemble our papers. As luck would have it we found these crowns from a previous project! | again we decided to go with a union jack in the centre - a bit tricky to get right... | gradually we built up the layers - at this point still just laying them out until we were happy |
once you're happy with your design begin to attach the elements with your decoupage finish - we chose the gloss version

finally we added the '70s'
Once your design is in place then use the decoupage finish to cover the whole plate. This should be repeated several times to build up the layers and finish the project

previous posts;