blog - sarah van reenen
sarah van reenen-barrett
Sius is a small business set up by Sarah after the loss of her husband four years ago at the youthful age of 33. The name is a combination of her husband's name Si and the two of them "us", hence Sius.
It was started as a hobby and a form of therapy but Sarah has seen it blossom, and she now sells to customers all over the world. She works through each of the steps of the handmade processes herself, first making the moulds of the majority of the BUDDHAS and plaques and then filling them with a special mix of concrete. Swarovski elements and sometimes textiles are then added to each one to create a unique piece. Slowly and mindfully each one takes shape to create beautiful pieces for both the home and garden.

Here we give you a taster. For the wide variety that she creates, visit her on the link below.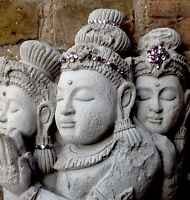 --------------------
See the intricate detail in these pieces. These are just a selection of the impressive range of pieces that Sarah
creates - visit siusbuddhas on instagram to see more

07/07/2015
previous posts;