blog - quilting
A trip down memory lane!
We called it Memories of Africa.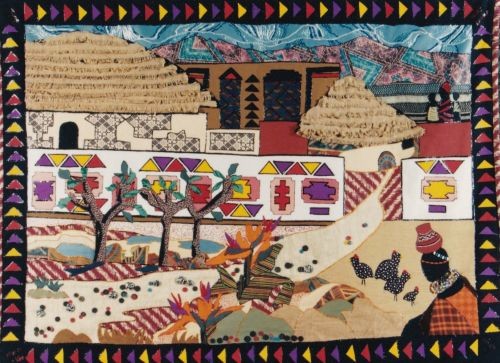 Size 128 x 98cm
This year I went up to the NEC's Festival of Quilts which I haven't done for years. I loved every minute of it and came back totally inspired. It stirred up memories of the time when we were still newbees in our business. It was 1994 and we decided to to create a piece to be entered into the embellished section of the National Patchwork Championships. We'd not done anything like this before. The aim was to see if we could put together the entire quilt with nothing more than appliglue. We almost succeeded. Only the 1cm edging which can hardly be seen has been stitched on. It has been hanging up since then and while the colours of the fabric have faded slightly, the appliglue has stood the test of time. We thought it would be rejected, and were absolutely delighted when we got a certificate. If memories serve us right we think we got a silver, but we can't find our rosette! Below are some photographs of the detail. When I find the photos of the WIP I will upload them. I just hope they haven't gone the way of the rosette.
| | | |
| --- | --- | --- |
| | | |
| As you can see the fabric of the chicks is somewhat faded, but the beautiful detail of the necklace and beading has stood the test of time. | The strelitzia with its strong design always introduces such a wonderful splash of colour in the countryside. We tried to demonstrate that here. | The simpliciy of the trees throwing their slight shadows on the ground and the designs of the Ndblele huts creates a contrasting sight. |

to see our quilts & wall hangings

to see patchwork with appliglue
previous posts;