blog - ewa morawski
Ewa Morawski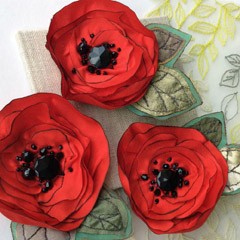 Ewa Morawski is a London based textile designer who produces wonderfully tactile pieces each of which is stunning in it's own right.
After a career involving fine arts, illustration, wallpaper design and furnishing textiles Ewa studied Printed Textiles Design at Chelsea College of Art and Design, graduating in 1996. As a freelance designer she has created embroidered textiles that have sold worldwide into the fashion industry. Ewa's unique and exclusive designs reflect the creative process of her fine art heritage. "I used to draw with pencil, and paint with watercolours and acrylics. Now I draw with thread and use fabrics for my colours and texture." She often draws on influences from English Gardens, Art Deco, Charles Rennie Mackintosh and Polish Folklore.
Ewa undertakes commissions for weddings and fashion as well as producing her own range of fashion accessories and furnishing textiles.

www.ewamorawski.co.uk ewa morawski on facebook

we love these valentines creations - sometimes you just have to buy rather than making!

- visit her website for more
| | |
| --- | --- |
| | |
| This book headpiece is a piece in organza designed to be worn on the head. The pages flutter lightly with movement. This is on view at the exhibition Artist's Books at the Riverside Gallery in Richmond from the 1st December. | The View of St Paul's is going to be exhibited in the Orleans Gallery in Richmond early next year, so look out for the date. Richmond Hill is one of those places where one can see St Paul's. This will be demonstrated on two finely embroidered pieces hung on a window offering this view towards the City of London . |
| | |
| --- | --- |
| 3D roses made with silk organza dexterously manipulated into shape. The burnt edges give a definition which does not in any way deter from the delicate effect achieved. In fact the roses appear to have greater vulnerability. Leaves are created in the same way and finished off with fine embroidery. The red poppies on the right hand side have been created similarly and appliglue is used to fix the jewellery stones. | |

Beautiful outfits can be commisioned for weddings or special occasions. What little girl wouldn't love to have a new one for her favourite doll too! Look carefully at the details on the headdresses, cuffs and shoulder.
A comb or laber is covered with velvet ribbon, fixed in place with Appliglue and stitched into place to finish off. Again look at the beautiful detail on the wedding boleroes below.
| | | |
| --- | --- | --- |
| -------- and then Ewa chooses one of our Inspiration Packs and we are in awe! | | Using all the yummy handmade papers, textiles, foil, silk threads and raw silk available, Ewa transforms the Canyon Rock Inspiration Pack. Clear Appliglue is used to add the foil detail, and it has also been lightly embellished with coloured Appliglue. |
previous posts;
| | |
| --- | --- |
| | posh pumpkins |
| | pencil case upcycled |
| | xmas elephant card |
| | foiled xmas twig tree |
| | autumnal weaves |
| | halloween 2018 |
| | funky flipflops! |
| | ocean billet doux |
| | jo mabbutt |
| | designs on eggs |
| | chinese new year 2018 |
| | doris - the tail end! |
| | lucie dodd |
| | dominic mckeown |
| | tracy lowry |
| | niamh weaves |
| | sarah noble |
| | amy edwards |
| | art & the seaside |
| | summer celebrations |
| | celebration letters |
| | spring cleaning! |
| | susan adams 2017 |
| | valentine cards |
| | chinese new year |
| | mend it! |
| | transferglaze dolls plates |
| | halloween 2016 |
| | molly meadway |
| | toys tea party |
| | bridget davies art |
| | emily rose middleton |
| | alice godwin |
| | francesca gibbs |
| | sofia rufin |
| | nicole ferry |
| | marmaduke london |
| | ewa's spring flower inspiration |
| | bird house |
| | susan adams |
| | sarah appleton |
| | four corners cafe |
| | festive foiling |
| | hilary beattie 2015 |
| | halloween 2015 |
| | England colours |
| | pirate pedalo |
| | doll's house patio |
| | sarah van reenen |
| | ali reed |
| | jannine knight |
| | clementina's fishshop |
| | flutter designs |
| | bridget davies |
| | mothers day 2015 |
| | foiled boots |
| | doris at Christmas! |
| | kim thittichai |
| | ewa morawski |
| | nova & lorsten |
| | autumn 2014 |
| | jennifer gould |
| | quilting |
| | hilary beattie |
| | mary yanke |
| | typography |
| | father's day 2014 |
| | doll's wardrobe |
| | name it, mark it |
| | all sorts of eggs! |
| | transferglaze egg |
| | appliglue t shirt |
| | doll's house furniture |
| | appliglue glasses case |
| | craquelure heart |
| | valentine's day 2014 |
| | christmas 2013 |
| | halloween 2013 |
| | summer in the garden 2013 |
| | |