blog - Vintage Mother's Day
A vintage pot for Mother's Day,
decoupaged and aged to create the perfect gift for Mum.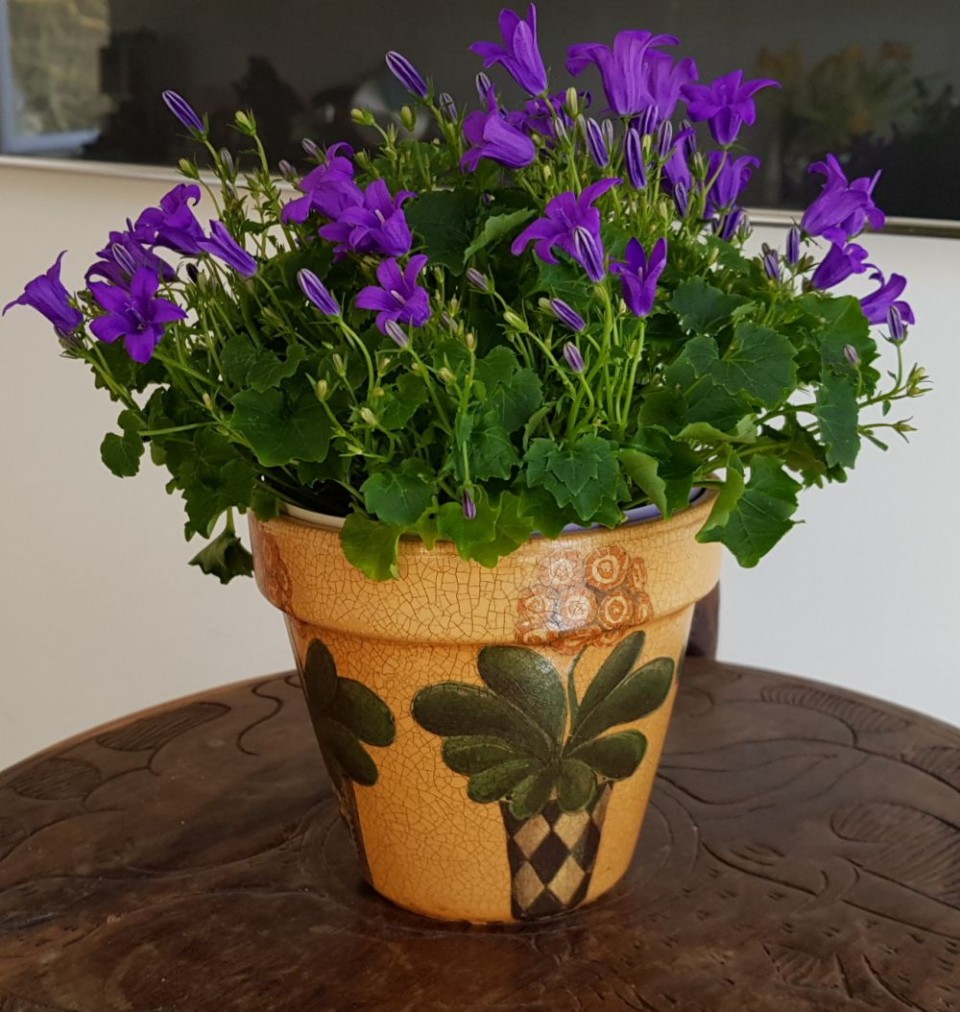 We used a clay pot, wrapping paper, decoupage finish, craquelure small crack and craquelure step 2
Below is a step by step description of how we achieved it
| | | |
| --- | --- | --- |
| | | |
| Paint the inside and outside of the pot with two coats of emulsion. A tester pot of a colour of your choice is perfect. Allow the paint to dry between each application. | Carefully cut out your decoupage motifs and paste them into position. Apply to the pot using Decoupage Finish. | Wipe of any excess paste with a damp cloth and leave the surface to dry completely. If you are looking for a seamless smooth feel, finish to filloff with several layers of Decoupage Finish, either Matt or Gloss. |
There is always the option now to create an aged look, and below we show you how to achieve this look.
We used raw umber to colour in the cracks to age this plant pot.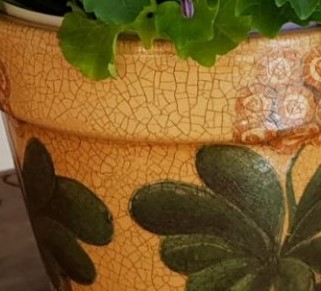 Apply an even coat of the craquelure base coat over the whole of the outside of the pot. Allow this to dry completely - it should take about 20 minutes. It's perfectly fine to use a sponge brush.


Using a clean brush/sponge, repeat the procedure with a layer of the craquelure step 2, brushing it on smoothly and evenly as you would with varnish. Ensure that you have covered the whole surface.

To speed up the cracking process, place the pot in a warm place such as an airing cupboard for about two hours or until it is quite dry. Don't be disappointed if you don't see the cracks immediately. Hold the pot up to the light at an angle and your'll notice the fine hair like cracks all over the surface.

Select a method of colouring the cracks and varnishing from the following options:

Squeeze some artists oil paint e.g. raw umber on to the saucer. Apply a little white spirit to a clean cloth and rub the oil paint over the entire surface of the pot. The white spirit will help spread the oil paint. After a few hours gently rub off the excess oil paint with a clean, dry cloth. Leave for 72 hours . Seal with an oil based varnish.

For a cleaner look wait 12 hours after applying the oil paint . Then use a damp cloth to gently wipe off the oil paint on the pot , ensuring that you leave the umber in in the cracks. Allow it to dry for a further 72 hours and then varnish with an oil-based or acrylic varnish.


Coloured furniture wax, or gilt creams come in several colours. Apply the wax over the surface with a clean cloth, gently rubbing off the excess after about an hour Leave for another hour and varnish with a clear furniture wax, or an oil-base varnish.
| | |
| --- | --- |
| | |
we have put together two special offer craquelure packs - one including decoupage and one without
(each pot is 100ml) - just click on the image to buy
previous posts;